Cryptocurrency exchange hasn't being any easier! With a seamless and fast exchange process, ZenGo is a well-established and most trusted cryptocurrency exchange trading platform which provides real-time trading services including Bitcoin (BTC), Ethereum (ETH) and Tether (USDT)
ZenGo, a non-custodial, keyless cryptocurrency wallet. It is your best option if you're looking for a safe wallet for your all your digital currencies.
Surprisingly, saving and transacting in Bitcoin on this wallet earns you great benefits as well.
Here in this article is everything you need to know about Zengo
Overview of The ZenGo Wallet
ZenGo is a non-custodial cryptocurrency wallet that may be used to store Bitcoin, Ethereum, Dogecoin, and other cryptocurrencies.
It is by far the easiest crypto wallet to use. Their UI/UX is unparalleled in the crypto space. It takes about just a minute to create an account.
It is the world's first keyless bitcoin wallet.
The ZenGo wallet was founded by Ouriel Ohayon and his colleagues in April 2019 with headquarters in Tel Aviv, Israel.
Their mission is to make the global crypto economy accessible to anyone.
ZenGo wallet allows you to buy, trade, and earn cryptocurrencies in a secure and stress-free manner.
ZenGo Wallet Features
Excellent UI/UX user interface Transaction speed that is regulated.


Fees that can be adjusted.


High Annual Percentage Yield.


Support comes from a variety of sources.


Customer service is available 24 hours a day, 7 days a week.


Referral for a mobile app.


ZenGo can be downloaded for free

.
Products and Services Offered By ZenGo Wallet
The following services are available through ZenGo:
ZenGo offers wallets for more than 70 different cryptocurrencies. These wallets are secure places to keep your valuables.
The wallet can also be used to send cryptocurrency.
You can save your coins and get incentives in this section. BTC, DAI, USDC, USDT (ERC20), and XTZ are the coins that can be saved.
Check out how much money you can make from each one:
BTC – 4% Annual Percentage Yield


2.5 percent DAI


2.26 percent USDC


3.16 percent USDT


5.57 percent XTZ



Purchasing and Selling
You can use this service to buy cryptocurrencies with cash using one of the supported payment methods.
You may also sell your cryptocurrency on the marketplace for cash.
What's more, when you buy Bitcoin on ZenGo, you can get up to $10 in cashback.
Process
Use this link to get ZenGo.


Click Tap here to input your code on the email screen and enter the code ZENX0B4G, then hit Apply.


Make sure you see "Referral code applied" before continuing to join up with your email address.


Select Buy and make a $200 or more purchase.


Within a few days of receiving your purchase, you'll receive your Bitcoin cashback reward. Amazing!



Commerce
You can trade one coin for another here. Countries & Exchange Rates are supported by ZenGo Wallet except for:
Bangladesh
Cuba
Iran
Myanmar
North Korea is a country in North Korea.
Pakistan
Panama
South Sudan
Sudan
Syria
Zimbabwe
These states are restricted within the United States:
Connecticut
Hawaii
New York
New Mexico
Because ZenGo makes use of third-party platforms, double-check that they support your nation.
Check out MoonPay's list of supported countries and Coinmama's list of supported countries.
This wallet accepts over 70 different cryptocurrencies as well as the native currencies of the countries that use the network. They are as follows:
Cryptocurrencies
BTC, ETH, ZRX, AAVE, REP, BAND, LINK, CHZ, CVC, COMP, DAI, MANA, LUNA, OKB, MATIC, USDT, UNI, WBTC etc.
Cash
AUD, CAD, EUR, GBP, JPY, KR, NGN, USD.
Transaction Fees & Payment Methods Payment Methods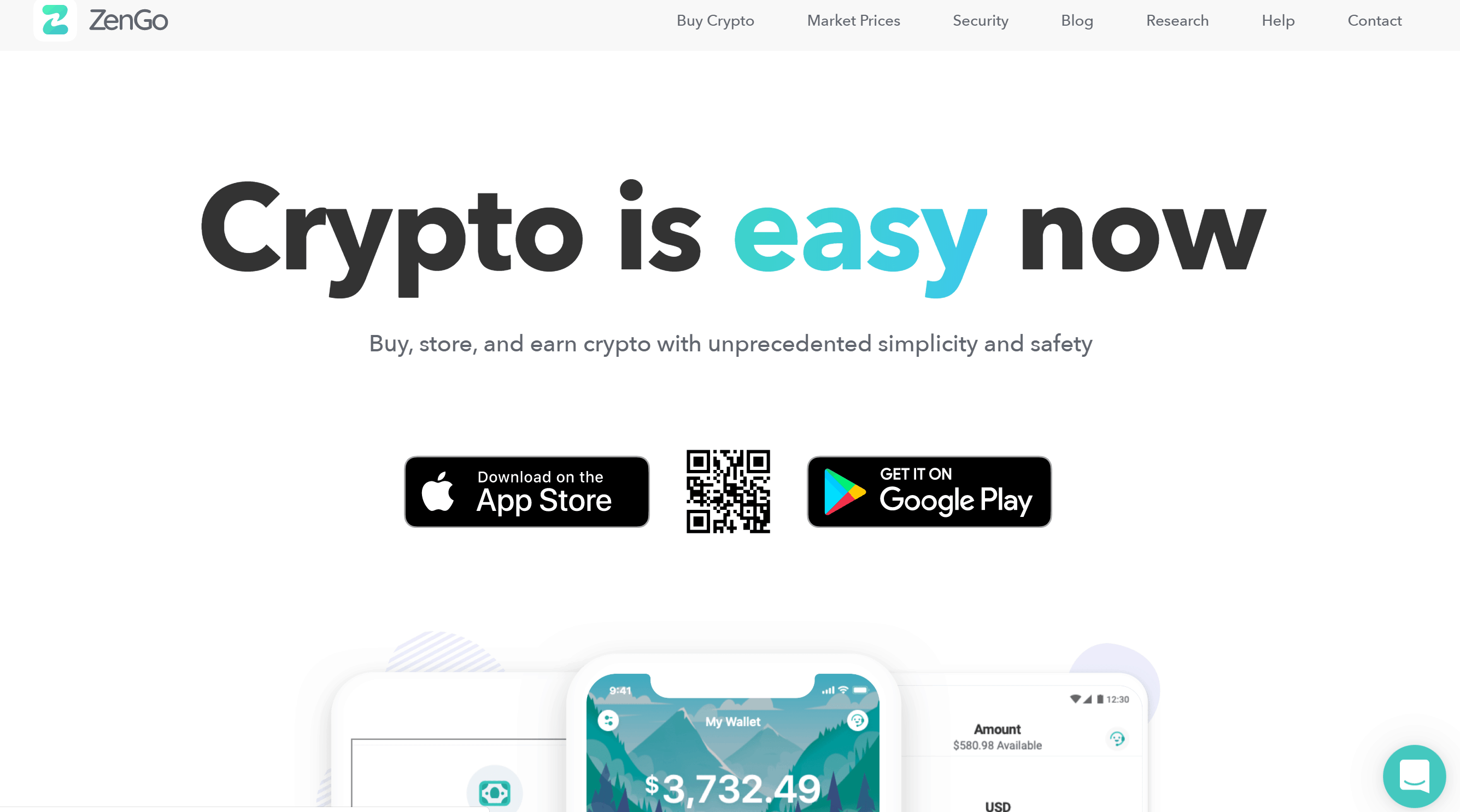 using a credit card (Visa and MasterCard)


Apple Pay is a service that allows you to pay (Visa and MasterCard)


Transfer of funds via bank (SEPA and Swift)


Visa debit card (Maestro)


Google Pay is a service that allows you to pay (Mastercard)


Samsung Pay is a mobile payment system developed by Samsung (Mastercard)


Instant GBP bank transfers
Fees for Transactions
ZenGo has no costs for sending, receiving, or storing cryptocurrency.


Trading, like cryptocurrency networks and payment processors, incurs fees.


Fees for trading – 0.75 percent.


When transacting BTC, ETH, and ERC20 tokens, you can choose between the economy, normal, and rapid network cost modes.



Limits on Transactions and Verification Requirements
Limits on Transactions
Except when buying through a payment processor, there are no limits on crypto transactions in the ZenGo wallet.
The least amount you can purchase with MoonPay is $100, and the highest amount is determined by your degree of verification with the platform.
While the smallest amount you can sell is 20 EUR, the greatest amount you can sell is 2,000 EUR per day and 10,000 EUR per month.
Requirements for Verification
You must validate your email address in order to use ZenGo.
Then you can put your cryptocurrency into the wallet.
If you want to buy cryptocurrency with cash, you'll have to generate a biometric backup using your face. The wallet will use the camera on your phone to capture your face.
The goal is to keep your funds safe even if your gadget is lost.
Public Opinion And Customer Support
Users can discover answers to their queries about the platform and other related issues in the ZenGo wallet's Knowledge Base.
They can also get direct responses by using the Live chat icon on the home page.
These channels can help keep users up to date:
https://www.twitter.com/zengo


https://www.medium.com/zengo


https://www.github.com/kzen-networks


https://www.linkedin.com/company/zengo


https://t.me/zengo
Using ZenGo Wallet To Buy Bitcoin In Nigeria
To begin, you must first download the wallet.


Go to zengo.com and, depending on your device, select Apple Store or Google Play Store.


Open the wallet and go straight to the last page to enter your email address.


Then as your referral code, type ZENX0B4G and click Continue.


Click the link delivered to your inbox to confirm your email.


Then for your account, create a password.


To continue, pick Explore the app.


Choose to buy BTC by selecting the Buy/Sell option at the bottom of the page.


Enter the required amount and click Continue.


Verify your email address with MoonPay and fill out the rest of the form to proceed.


Your wallet will be credited with BTC after completing a payment to MoonPay.


Please keep in mind that payment processing may take a few days.


You may even cancel your transaction before it is validated on the blockchain, which is rather impressive.
Comparing the ZenGo Wallet to Other Wallets
Trust vs. ZenGo.
Trust, like ZenGo, is a mobile wallet. It is a product of Binance, a worldwide cryptocurrency exchange.


Trade, Staking, and Buy Crypto are all available in both wallets.


Both wallets are also compatible with Android and iOS.


Trust, on the other hand, contains two aspects that ZenGo dislikes: Finance and Collectibles.


While ZenGo is a keyless wallet, Trust requires a private key to protect your assets.
Coinomi vs. ZenGo
George Kimionis founded Coinomi in 2014, making it one of the first cryptocurrency wallets.


It is secure, just as ZenGo, and users can store over 500 coins for free.


Staking and crypto trading are also supported by the wallet.


Coinomi, on the other hand, allows customers to purchase Giftcards using cryptocurrency, whilst ZenGo does not.


It also features a web interface, whereas ZenGo does not.


The keyless feature of ZenGo, however, is not available in Coinomi.
Frequently Asked Questions.
What makes ZenGo an attractive choice for Nigerians: To make cryptocurrency purchases, ZenGo uses a third-party payment processor. This is beneficial for Nigerians (after the crypto ban) because they can send money without naming any cryptocurrency.

The only drawback is that you must go through the KYC process with the payment processor.


Is using the ZenGo wallet secure: ZenGo wallet is safe in my opinion because. The proprietors are well-known. ZenGo conducts security audits on its mobile app and server on a regular basis. All of ZenGo's systems are subject to routine security checks.
ZenGo has also raised $20 million for its development from notable investors such as Samsung Next, Elron, Collider Ventures, FJ Labs, and others. However, do your homework before putting this wallet to use.
3. How do I reclaim my account if something happens to my face, for example, an accident: ZenGo, thankfully, allows for a second face map. Simply have a close friend or family member add a biometric face scan to your account, and you're ready to go!
Individuals can use the ZenGo wallet to store, acquire, transfer, and exchange cryptocurrency. It accepts a broad variety of coins and is simple to operate.
There you have it, everything you should know about Zengo.
Perhaps you're already making use of your wallet. What has your experience been like?
You can share with us via the comments section.