Affiliate marketing is the next big thing to happen to Nigeria as everyone wants to get into it.
With affiliate marketing, there are actually no limits to how much you can make, with up to 200k and more on a single sale, you are sure on your way to financial security.
But then, it is very possible to spend years on affiliate marketing without making anything reasonable from it, frustrating right?
Well here is a complete guide on how to start affiliate marketing in Nigeria. With this, you can be sure you're going into a profitable venture.
Honestly, I would have loved to break your heart but that is the truth, affiliate marketing in Nigeria is at its early peak making it highly lucrative and open to everyone.
What is Affiliate Marketing?
Affiliate marketing is a performance-based marketing program, where an external partner known as an affiliate is rewarded a commission for delivering a specific result to a merchant or advertiser.
Essentially, affiliates perform online marketing on behalf of a merchant, with the ultimate goal of driving traffic and conversions to the merchant's website.
For every click or sale earned, the affiliate is paid by the merchant.
Why Affiliate Marketing in Nigeria is Great Idea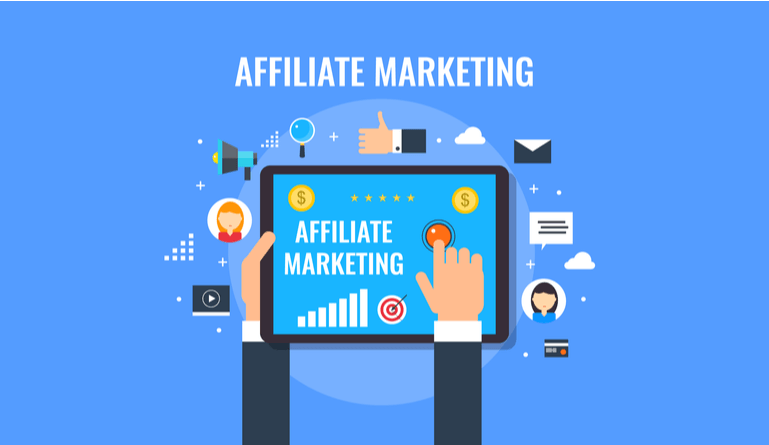 There are tons of reasons I would advise anyone to start affiliate marketing in Nigeria, and I would give you some.
If done well, it could be completely passive if you have been researching how to make money online for something new, you should have come by the term passive income.
Affiliate marketing in Nigeria is extremely affordable, in fact, it is next to free.
Yes, if you are a student or probably married with a lot of responsibilities, you do not have to borrow money to start up.
With as low as N2000 you can start marketing online and earn the Affiliate commission.
It is highly profitable and this no gainsaying the returns from Affiliate marketing in Nigeria is quite massive.
When I first started out, I was encouraged by some foreign marketers who quit their jobs to become full-time marketers and are now making over $20,000 monthly.
I took it as a challenge and as at the time of writing this article, I am making over 8x minimum wage monthly and the earnings just seem to be going up.
I know of some guys here in Nigeria who makeover N800,000 from their efforts put into Affiliate Marketing here in Nigeria.
So it could be a side income provider for you, but could definitely grow into a full-time career.
But you wouldn't make so much out of if don't really understand how affiliate marketing works.
How Does Affiliate Marketing Work?
Affiliate marketing in Nigeria is not different from what it is universally, it is quite simple. Here's how affiliate marketing works, in a nutshell:
1. Finding a product that offers an affiliate program.
2. Signing up for the Affiliate program.
3. Promoting the product to people.
4. Get them to buy.
5. You earn a certain percentage of what is sold.
6. Go spend your money and enjoy.
1. Pick a Niche
A niche is a kind of area where you view yourself as an expert or used to.
For instance, most girls are familiar with make-up kits and Brazilian hair and they are so familiar with these materials, so girls on campuses now make decent money selling these items.
So your niche could be anything you could confidently lecture me about.
If you are still confused as to what your niche could be, take a lot of what you use already or probably something you are passionate about.
If you still have no idea, don't worry, before you finish reading this article something would have popped up in your head.
Feel free to contact me for further help via the contact page.
2. Find Affiliate Products in Your Niche
for the sake of this article, I will be using wireless devices as my niche.
Imagine there is this cool wireless ear-pod I bought, and I would want to market it to people, the first thing I do is to check who sells these products.
Probably they are being sold on Jumia, the next question would be, does JUMIA offer an affiliate program?
To check if the seller of a product offers an affiliate program, you can simply go to Google and search for the keyword (for this case it would be Jumia Affiliate program).
Yes, Jumia offers an affiliate program, so you could run the test for the stores or websites that sell the product you wish to promote.
What You Should Know About Affiliate Marketing
After signing up for any affiliate program, you are given an affiliate link, it is a link meant for you alone to refer people.
So when you want someone to purchase a product, you send them your affiliate link. Affiliate links may take different forms
When the people you refer click your Affiliate link, a cookie of fixed duration is placed on their browser.
Let me break it down for you to understand, what that simply means is when someone clicks on your Affiliate link a detector (which is called a cookie) is being stored on the browser (such as Chrome, Firefox, or Opera mini) of the person.
The cookie is kept for several days on the browser, If the person makes any purchase within these days you still get a commission.
What is good news is that even if they do not buy immediately after clicking your link, as far as they make a purchase within the cookie lifespan (which is usually about 40 to 60 days) you will still get a commission.
Various Affiliate programs offer free banners you could place on your websites, we would cover this as we move on.
Now you are ready to start promoting and if cause earning.
So what you need to do next is to determine where you would promote these products, there are three ways to give you an upper hand when it comes to promoting a product in Nigeria:
1. Use Your Social Media Accounts to Promote Your Affiliate Products
I once saw a meme on WhatsApp that said "when your smartphone does not make you money, you are not smart" and I quite agree with them.
What in this world do you do with your 800 friends on Facebook? What do you do with your 5k followers on Instagram? Let's just forget about Twitter for now.
I make over 80k monthly from the connections I am able to build via my social media accounts (especially Facebook).
When you update the profile pictures you get over 5k likes, why don't you monetize those loyal followers of yours?
All you need to do is find a product that you know they would love and preferably one that you use yourself and share your Affiliate link with them.
You can post it on your timeline or share it with them personally, you can do the same thing on Twitter and Instagram.
Try also to be creative, you can shoot a video showing them how to use the product and how it has been of benefit to you and then place a link (which will be your Affiliate link) to buy it below the video.
2. Building Your Affiliate Marketing Model Website
Along the year 2008, blogging shifted a little bit from being ads dependent to being Affiliate commission dependent.
So therefore an affiliate marketing website is one that generates the bulk of its income from affiliate programs.
Yes, it could be a blog or just a landing page. I would prefer you go with a blog, there are top kinds of blogs that make a lot of money using Affiliate marketing.
In fact, this blog you are reading right now makes a bulk of its income from Affiliate sales.
We signed up for various Affiliate programs, some paying us as high as $60 per sale. Yes, $60, that is approximately N35,000.
Another Affiliate program pays us 50% of whatever the client we refer to them pays.
What do I Have to do to Sell My Affiliate Products?
1. Build a Blog
Sign in to Blogger or WordPress to do this.
2. Build and Email List
Most people check their emails daily, I check mine every two hours, so if you got a list of emails, you can market future products to them via emails.
3. Create Quality Contents
Oh yes, people would not just see your link, click and then make a purchase, you need to create value.
You need some piece of content.
Whether you are writing a review about a product or writing a guide on how to use a product.
Now that the framework of your page is ready to go, you need to create content.
Some affiliate networks and affiliate programs require you to already have established content, site traffic, and monthly views at a certain level before they'll accept you as an affiliate.
So be sure to read the eligibility requirements for the specific networks and programs you're considering before you apply.
This doesn't mean that you have to create 100 blog posts before you can even think about becoming an affiliate marketer
But you should have at least 5 strong posts already on your site with more scheduled.
Conclusion
There you have it, a complete guide on how to start affiliate marketing in Nigeria.
Now you know what affiliate marketing in Nigeria is all about, and how to go about it, let us know what you think via the comment section.
If it's something you'd love to do or not, we'd love to share your thoughts.
Don't forget to like and share too.